The leaves of Mitragyna speciosa, sometimes known as kratom, are used for various claimed purposes. There are numerous ways to consume kratom to fulfil their demands or create their own unique experience with the herb. One of the most prevalent methods to consume kratom is in capsule form.
What Are Kratom Capsules?
Kratom capsules are typically tiny capsules containing kratom herbs that have been crushed or powdered into kratom powder. However, pills with a liquid kratom extract may also be manufactured. Since the kratom in these capsules is more vigorous, they are often smaller.
Kratom Capsules vs Pills
Capsules are formed like pills, although they are generally not flattened into pills or tablets. The capsule contains kratom powder and can be filled into various measurements or doses. Capsules differ from tablets in crucial ways:
Kratom capsules function as a shell that holds a pre-measured dose.
Because the capsule contains the kratom dose, the kratom does not need to be combined with a binding agent to form a pill, keeping the kratom pure and free of additional components.
Capsules are frequently constructed from gelatin or collagen derived from animals or plants. They degrade swiftly after consumption, making the advantages of kratom more readily available to the body.
Capsules, in general, do not have a flavor or taste connected with their use.
Kratom Capsules: Which Strains Are Used?
While all kratom is from the same species, distinct strains have varying effects and speeds. A kratom strain defines the vein color and the location of origin.
Kratom veins include:
Red vein kratom
Yellow vein kratom
Green vein kratom
White vein kratom
The primary kratom sources and countries are:
Bali
Sumatra
Thai
Borneo
Malaysian
Sudanese
Capsules may contain one kratom strain, or the user may mix strains to achieve certain advantages or effects. Furthermore, Maeng Da kratom strains are available, which means the kratom is prime or top-shelf. Maeng Da kratom is available in the same strains as those mentioned above but is a more premium and robust variant of the strain. You can also buy Maeng Da Kratom capsules.
How Should Kratom Capsules Be Taken?
Kratom pills are the most convenient way to consume kratom. Capsules are standard sizes, so no additional measurements are required for loading or sipping any other food or beverage. If you prefer to take kratom in capsule form, it is critical to understand capsule sizing and kratom dosage, particularly if you intend to use it long-term.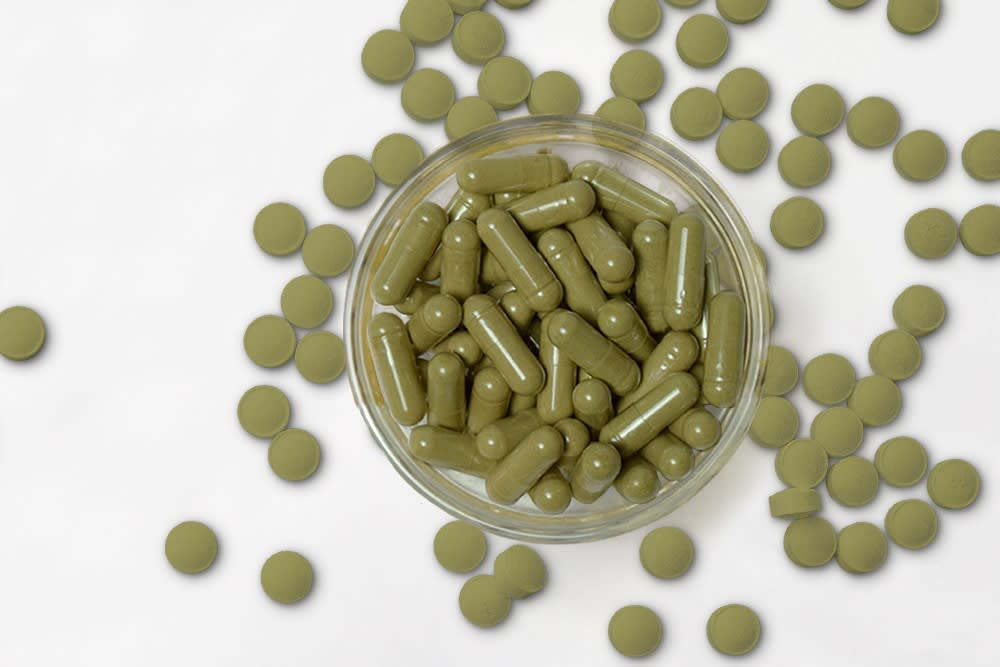 How Many Kratom Capsules Do I Need?
Managing your dosage with capsules may be dependent on a few factors. Because capsule sizes might vary, it is critical to read any labels and consult with your distributor to determine the size of the capsules and the grammes or doses they contain. The following are some standard sizes and their related volumes:
Capsule size: 000. Volume capacity: 1.3ml
Capsules ize: 00E. Volume capacity: 1ml
Capsule size: 00. Volume capacity: 0.9ml
Capsule size: 0E. Volume capacity: 0.78ml
Capsule size: 0. Volume capacity: 0.68ml
Capsule size: 1. Volume capacity: 0.48ml
Capsule size: 2. Volume capacity: 0.36ml
Capsule size: 3. Volume capacity: 0.27ml
Capsule size: 4. Volume capacity: 0.20ml
Capsule size: 5. Volume capacity: 0.13ml
As an example: If you usually take one gram of kratom for your amount, you may do the following:
One size-00E capsule
Or, four individual size-4 capsules
If your usual dose is two gram, you could take:
Two size-00E capsules
Or, eight size-4 capsules
Remember, this is just a rough guide to popular sizes; always consult Kratom Country for more specific information on capsule quantity and kratom dosage.
Pros and Cons
When choosing the optimal way of consumption, it can be helpful to weigh the advantages and disadvantages of each option. There are a few Pros and Cons of taking kratom in capsule form, described further below.
Pros
The benefits of using kratom pills as part of your regular regimen may include:
Dosage simplicity. Kratom purchased in capsule form often has an accurate and predetermined dosage. This makes measuring and ingesting your preferred dose easier than weighing or preparing other forms of kratom, such as a whole leaf, powder, or extracts.
Capsules are small and easy to transport. Capsules are compact, portable, and easy to use. The powder form of kratom is retained within the capsule shell, making it clean and straightforward to transfer your kratom dose.
Cons
The disadvantages of using kratom capsules for your daily dose may include:
The majority of conventional capsules are made of easily digestible biodegradable material derived from plant or animal collagen or cellulose, making some capsules vegetarian or nonvegetarian. Some people may also have allergic reactions to capsule manufacturers' inert materials, such as gelatin or seaweed.
Capsules are likely to be more expensive. Purchasing kratom in capsule form may be more costly than purchasing bulk kratom powder due to the additional processing involved, prices for buying the capsules, time and production in measuring, filling, and packing.
Making Kratom Capsules
If you want to take kratom in capsule form but control the strain mix and dose, you can produce your DIY kratom capsules. You will need some instruments and knowledge to make your herbal or kratom capsules.
Fill each capsule to the desired dosage size. This should give you the correct dosage per capsule.
You can also use a digital scale to weigh the kratom utilized to make each capsule.
Divide the entire amount of capsules by the total amount of kratom powder to find the dosage of each capsule.
Kratom pills are a popular way to buy and use kratom. Most kratom strains are available in pill form, making dosage monitoring and control easier. More experienced users might purchase kratom powder or extract and fill their capsules to ensure a uniform dosage per capsule. If you are new to kratom, Capsule may be a more convenient method to learn about dosage and advantages.